Hello friends!
Today, I'm showing off our fireplace mantel all decked out for Christmas.
Yes, that's a big honkin' TV and speaker in the middle of our mant

el, and the main focal point of the room.
We have prior

ities...TV over design

in the Battles ho

usehold.

I kept it pretty simple.
Pottery Barn stockings we got a few years ago,
and glittered pinecone tree I got at Marshalls.
Although, I think I could have DIY'ed
it myself if I had to.
(Yes, DIY'ed is a word here.)
Other than that, I just mixed in some glittery branches and berries in my pitcher vase.
I also tried out flameless led candles for the first time, not only for safety,
but also so I wouldn't get soot on the wall.
I actually think they look natural lit in the hurricane,
and emit a pretty glowing flicker.
More features of the Christmas decorating we've been doing around
here coming soon!
I'm linking up again!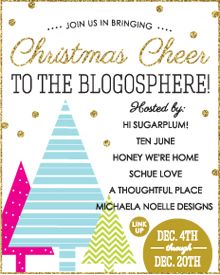 xoxo - Bethany